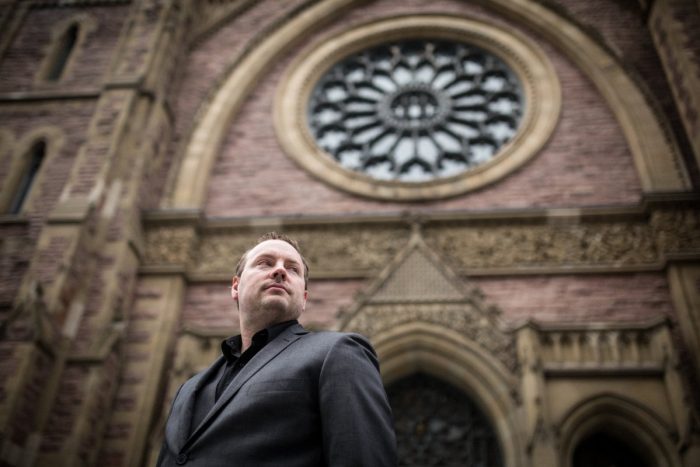 Who could not love all that impromptu music?
Listening to classical guitar is a wonderful experience, soothing and delightful and warm. St. Matthias Church is one of the few rooms in Montreal that can showcase the beauty of these intimate and subtle instruments. The performers' exact words to describe the space was "Wow."
These two guitarists are at very different points in their careers. Tariq Harb is the winner of the 2011 Montreal International Classic Guitar Competition, plays for Nathalie Choquette, etc. Mr. Cicchillitti is about to start a master's degree, but the mutual respect they share is obvious.
To describe them as musicians is easiest by the contrast of repertoire choices. The majority of Harb's repertoire " Villa-Lobos prelude no. 1, Ultimo Canto by the Paraguayan Barrios-Mangore, the first movement of a sonata by Jose, and Le Depart Op. 31 by Napoleon Coste" dealt with the theme of death and voyages.
Mr. Harb's playing was unwaveringly passionate. His connection to the music, and his instrument, was so tangible one was absorbed. In particular the Ultimo Canto was a tour de force. It was reaching out with music to touch and feel what cannot be said. Tariq Harb is a musical master of melancholy.
Mr. Cicchillitti showed versatility and a unique musical voice. He was most comfortable playing more recent music: Morel, Rodrigo, and his own compositions. In the Morel Sonata his sense of fun and enthusiasm for the visceral side of guitar playing were on full display and the Tres Piecas Espagnolas by Rodrigo were played with fire, passion, and tenderness.
The Bach Prelude in E (from the collection of unaccompanied violin works) could have stood a different approach. Unique musicality serves a musician well, but only so far. But the Bach chaconne at concert's end showed more of the pacing and phrasing than the Prelude did, and it was much more gratifying. At that moment he found the place of spiritual perspective and authority the music gained its necessary gravitas, which is the only way to serve Bach. And what a treat that was when he let go of himself to embrace the meaning in the music. He is already good but he might be great if he can keep doing that.
These two gents gave a great concert. Next time you have a chance to hear either of them, don't hesitate.